Hi!
I am Ravinder Bhutani, Founder of Joy Loan.
In March 2012, I started Joy Loan after 11 years of experience in the financial sector.
At Joy Loan, we are a small team of professionals who have experience in helping people like you. We serve home loan, loan against property and commercial loans in Delhi NCR.
Delhi NCR has diverse properties and people's profile. Because of this, Joy Loan work on client centric model. For this, we have partnered with most of the banks and NBFC. We work on borrower's issues with no bias. So we offer the absolute best option to most challenging requirements.
As we provide solution to many non-standard cases, we take a onetime loan coordination. This fee is a fraction of the cost you will spend anywhere else. Yet you risk nothing, as pay it only on sanction of loan.
---
How We are Different?
We are independent loan coordinator. So, we don't work for a specific bank, but we work for you.
For faster and best loan option, we do an in-depth analysis of customer profile and property. This help you get best deal from mainstream financial institutions. With us, you get superb offers and better than competitor's rates.
We are a local, professional and experienced team. Our committed and efficient team, provide complete support for your loan.
---
Our Customers Says so…
Santosh Kumar
I got my home loan from a Private NBFC at very high rate 16%, however as I discussed it with Joy Loan, they helped me to get balance transfer to Gov NBFC and now it is at 7.8%. Really professional and good firm to get home loan and Balance Transfer.
Naresh Drall
Dwarka Motors

,

,

Since many months I was trying for my home loan transfer. They did it only in few days. thank you ravinder bhutani ji for your personal attention.
Avdesh Adhana
No Bank was giving construction loan to me due to rural property in my village. He helped me in getting a construction loan. Very Honest and Professional deal. Thanks, Ravinder Ji for the Support!
Ombir Singh
Joy Loan helped me for a plot and construction loan in Bhondsi, Gurugram. I am happy with their work. I also referred few contacts to them.
Dr. Dipin Thakur
,
I got my loan sanctioned within 2 weeks for a house that is on unapproved property. Thank you joy loan and thank you, Mr. Bhutani.
---
Fun Facts About Me
I was born in July 1978 in Palwal (that time part of Gurugram, now independent district). I got married to Swati in March 2010. We became parents in November 2011 with a son. His name is Joy.
I am a fitness enthusiast. Before COVID I used running for fitness. C25K was a great. Yeap, I did it. Recently, I found cycling as a new love for fitness. I enjoy venturing on less traveled roads. So I love travelling. And I love to do phone photography on finding a pleasant subject.
Some snaps…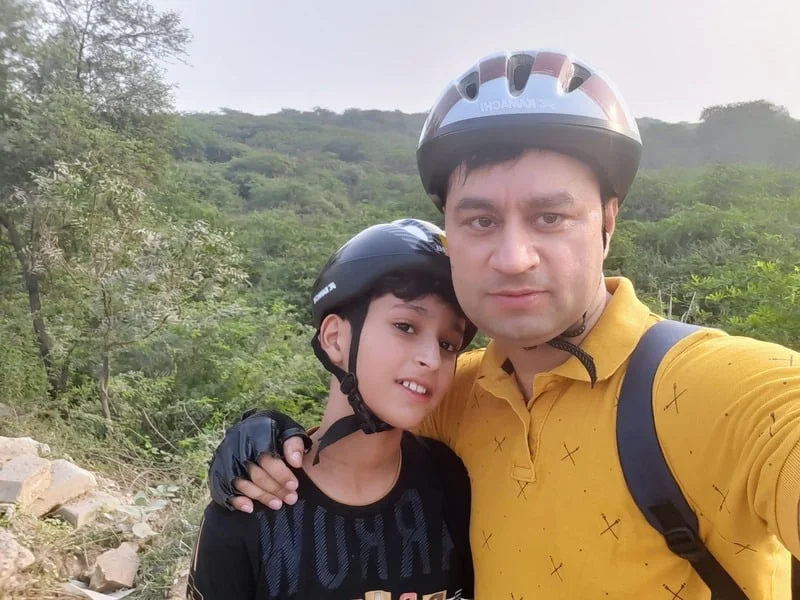 ---
Send Your Details. Connect with Expert to Assist You.
Submit to Make Your Loan Simple